Il corso si tiene nell'Aula Magna del Liceo Petrocchi dalle ore 17:00 alle ore  19:00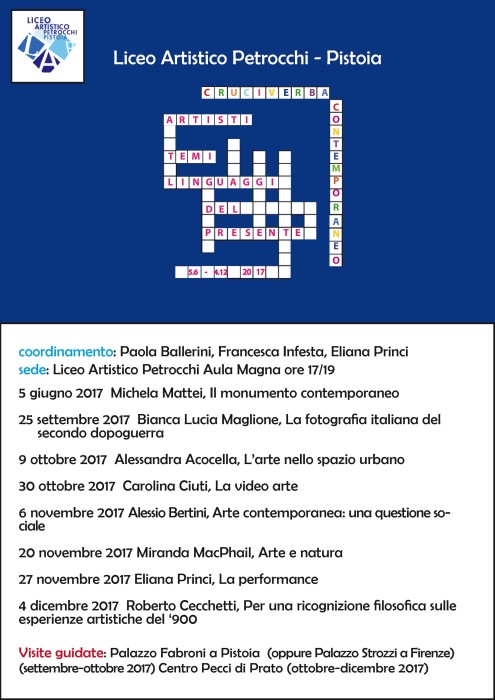 4 dicembre 2017
Roberto Cecchetti
Per una ricognizione filosofica sulle esperienze artistiche del '900
T.W. Adorno, Teoria estetica, Einaudi, Torino (1970) 2009. G. Agamben, Creazione e anarchia, l'opera nell'età della religione capitalistica, Neri Pozza, Vicenza 2017. R. Bodei, Le forme del bello, Il Mulino, Bologna 1995. G. Bataille, Teoria della religione, Se, Milano (1973) 2002. M. De Micheli, Le avanguardie artistiche del Novecento, Feltrinelli, Milano 1986. G. Garelli, La questione della bellezza, dialettica e storia di un'idea filosofica, Einaudi, Torino 2016. S. Givone, Storia dell'estetica, Laterza, Bari 2008. G. W. F. Hegel, Lezione di estetica, Laterza, Bari (1823) 2000. C.G Jung, Il libro rosso, Bollati Boringhieri, Torino 2009. I. Kant, Critica del giudizio, Laterza, Bari (1790) 1996. M. Recalcati, Il mistero delle cose, Nuove ritratti di artisti, Feltrinelli Milano 2016. F. Vercellone, A. Bertinetto, G.Garelli, Storia dell'estetica moderna e contemporanea, Il Mulino, Bologna 2003.
_________________________________________________________________________
27 novembre 2017
Eliana Princi
La performance
Bibliografia
Marina ABRAMOVIC, Attraversare i muri. Un'autobiografia, Bompiani, Milano 2016.
Silvia BORDINI, Arte contemporanea e tecniche. Materiali procedimenti sperimentazioni, Carocci, Roma 2007.
Emanuela DE CECCO, Gianni ROMANO, Contemporanee. Percorsi e poetiche delle artiste dagli anni Ottanta a oggi, Postmedia Books, Milano 2002.
RoseLee GOLDBERG, Performance art: from Futurism to the Present, 1979.
La performance, catalogo della mostra, La Nuova Foglio, Bologna 1977.
Sally O'REILLY, Il corpo nell'arte contemporanea, Einaudi, Torino, 2011.
Carla SUBRIZI, Azioni che cambiano il mondo. Donne arte e politiche dello sguardo, Postmedia Books, Milano 2012
Valerio TERRAROLI, L'arte del XX secolo. Tendenze della contemporaneità 2000 e oltre, Skira, Milano 2010.
Calvin TOMKINS, Vite d'avanguardia (Cage, Leo Castelli, Christo, Merce Cunningham, Johnson, Warhol), Costa & Nolan, Genova 1983.
Valentina VALENTINI, Eventi performativi e nuovi media, Bulzoni, Roma 1987.
Lea VERGINE, il corpo come linguaggio (La Body Art e storie simili), Prearo, Milano 1974.
Angela VETTESE, Si fa con tutto. Il linguaggio dell'arte contemporanea, Laterza, Roma 2010.
Angela VETTESE, L'arte contemporanea. Tra mercato e nuovi linguaggi, Il Mulino, Bologna 2012.
Tracey WARR, Il corpo dell'artista, Phaidon, (2006) 2011.
SITOGRAFIA
http://www.tate.org.uk/art/art-terms/p/performance-art
Sito della Tate Modern di Londra con ampia documentazione di video, interviste, testi sulla perfomance
http://www.thisisliveart.co.uk
Sito della Live Art Development Agency Working che sostiene e documenta azioni, documentazione, studi, ricerche per chi presenta, scrive, produce performance
http://www.li-ma.nl/site/catalogue/art/abramovic-ulay/imponderabilia-compilation-version/736
La Li-ma Foundation preserva, documenta, distribuisce video e media art.
https://www.artforum.com/video/id=30546&mode=large&page_id=18
Sito della rivista Artforum dove sono reperibili numerosi video di performance storiche
https://www.youtube.com/watch?v=_dCIa8n0HZQ&has_verified=1
canale Youtube, video delle performance di Marina Abramovic con Ulay, serie "Relation work"
http://17.performa-arts.org/events/barbara-kruger-the-drop
Sito della biennale di arti performative Performa di New York
https://www.youtube.com/watch?v=1RLDn92aGpY
Video ufficiale della Biennale di Venezia 2017 che include numerose performance realizzate per la rassegna
Elenco degli artisti considerati con indicazioni di video e documenti:
Carolee Schneemann and Robert Morris, Site, 1963.
John Lennon & Yoko Ono, Bed In for Peace, Amsterdam,1969
Lygia Pape https://vimeo.com/68463456
Richard Long, A Line Made by Walking, 1967
Paola Pivi, 100 cinesi, performance, Galleria Massimo de Carlo, Milano 1998
Aine Phillips, Red Weight, Cracovia, 2013.
Regina Jose Galindo, Pulizia sociale, 2016
Helio Oiticica, Parangolè, 1964-1979
Ernesto Neto, Sacred Place, Biennale di Venezia, 2017 http://www.artribune.com/arti-visive/arte-contemporanea/2017/06/biennale-venezia-padiglione-sciamani/
Nedko Solakov, A life (Black and White), Biennale di Venezia, 1999
Georges Mathieu, Battle Hakata, 1957
Vanessa Beecroft, VB35, Solomon Guggenheim Museum, New York 1998
Tino Seghal, These Associations, Tate Modern, Londra, 2012 http://www.arteecritica.it/archivio_AeC/72/articolo01.html
Vito Acconci, Trademarks, 1970
Hugo Ball recita Karawane al cabaret voltaire, 1916
Philippe Halsmann, Salvador Dalì, 1954
Hans Namuth, Jakson Pollock, 1950
Black Mountain College 1933-1957
Allan Kaprow, 18 happenings in 6 parts, 1959
Allan Kaprow, Yard, 1961
Saburo Murakami, Breaking Through Many Paper Screens, 1956
Shozo Shimamoto, Making a Painting by Throwing Bottles of Paint, 1958
Yves Klein, Antropometrie dell'epoca blu, 1960
http://www.yvesklein.com/en/films/view/100/anthropometries-of-the-blue-period/
Hermann Nitsch, http://www.museonitsch.org
Claes Oldenburg, The Store, 1961
Ben Vauthier, Festival of Misfits, Londra, 1962
Simone Forti, http://www.artribune.com/arti-performative/teatro-danza/2017/09/partono-con-le-performance-di-simone-forti-le-furla-series/
Living Theater, Antigone, 1967, http://www.raiscuola.rai.it/articoli/living-theatre-i-luoghi-del-teatro/4195/default.aspx
Jerzy Grotowsky Akropolis 1962 http://www.raiscuola.rai.it/articoli/jerzy-grotowski-il-teatro-laboratorio/4750/default.aspx
Marc Riboud, Pentagon March, 1967
Niki de Sain Phalle, Grand tir, Galerie J, Paris, 1961
Carolee Schneemann, Eye Body, 1963
Yoko Ono, Cut piece, 1964 https://www.moma.org/learn/moma_learning/yoko-ono-cut-piece-1964
Gina Pane, Azione sentimentale, 1973 https://www.domusweb.it/it/arte/2012/04/02/gina-pane-e-per-amore-vostro.html
Janine Antoni, Loving Care, 1993 http://docenti.unimc.it/g.cipolletta/teaching/2014/13720/files/lezione-4_laboratorio-di-arte-visuale-e-tecnologia/janine-antoni
Janine Antoni, Slumber, 1994
Suzanne Lacy & Leslie Labowitz, In Mourning and In Rage, 1977-1978
Ana Mendieta, Siluetas, https://blogs.uoregon.edu/anamendieta/2015/02/20/siluetas-series-1973-78/
Regina Josè Galindo, ?Quien puede borras las huellas, Città del Guatemala 2003 http://julietartmagazine.com/it/regina-jose-galindo/
Guerrilla Girls https://www.guerrillagirls.com/#open
Gilbert and George, Living Sculpture, 1969
Piero Manzoni firma una Scultura vivente, 1961
Piero Manzoni, Base magica, 1961
Erwin Wurm, One Minute Sculptures, Biennale di Venezia, 2017 http://www.artext.it/Artext/Erwin-Wurm.html
Urs Luthi, Self portrait, http://www.madrenapoli.it/collezione/urs-luthi/
http://1995-2015.undo.net/it/magazines/1200579200
Cindy Sherman, Untitled Film Still https://www.theguardian.com/artanddesign/2011/jan/15/cindy-sherman-interview
http://www.madrenapoli.it/senza-categoria/cindy-sherman/
Roberto Cuoghi http://espresso.repubblica.it/visioni/cultura/2017/05/30/news/roberto-cuoghi-artista-oltre-i-tabu-1.302903?refresh_ce#gallery-slider=undefined
Orlan http://www.orlan.eu
Mona Hatoum, Corpi Estranei, 1994 http://www.exibart.com/notizia.asp?IDNotizia=50679&IDCategoria=52
Marina Abramovic, Ritmo 0, Galleria Studio Morra, Napoli, 1974
Marina Abramovic, Art must be beautiful, artist must be beautiful, 1975
Marina Abramovic e Ulay, Relation in Space, 1976
Marina Abramovic e Ulay, Imponderabilia, 1977, Galleria Comunale d'Arte Moderna, Bologna, 1977
Marina Abramovic e Ulay, Rest energy, 1980
Marina Abramovic, Balkan Baroque, 1997
Marina Abramovic, The artist is present, MoMa, New York 2010
Josef Beuys, La rivoluzione siamo noi, 1971
Rirkrit Tiravanija, Do We Dream Under the Same Sky, Art Basel 2015, Basel
Yoko Ono, Dipinto per il vento, 1961
Francis Alÿs, When Faith Moves Mountains, 2002
_____________________________________________________________________________
20 novembre 2017
MIRANDA MACPHAIL
Arte e natura  Bibliografia:
AA.VV., Arte ambientale. Fattoria di Celle, Collezione Gori, Gli Ori per Cassa di Risparmio di Pistoia e Pescia S.p.A., Pistoia, 2008.
Garraud, Colette, L'artiste contemporain et la nature, Hazan, Parigi, 2007.
Gualdoni, Flaminio, Art. Tutti i movimenti del Novecento dal Postimpressionismo ai New Media, Skira, Ginevra – Milano, 2008.
Johnson, Ellen H (edited by), American Artists on Art from 1940 to 1980, Harper and Row Pub., New York, 1982.
Martin, Rupert, The Sculpted Forest: Sculptures in the Forest of Dean, Redcliffe Press, Bristol, 1990.
Miwon, Kwon, One Place After Another: Site-Specific Art and Locational Identity, MIT Press, Cambridge, Mass – USA, 2004.
Parmesani, Loredana, L'arte del secolo, Skira, Ginevra – Milano, 2003.
Sonfist, Alan (edited by) Art in the Land: A Critical Anthology of Environmental Art, E. P. Dutton Pub., New York, 1983.
Subrizi, Carla, Europa e America 1945-1985. Una nuova mappa dell'arte, Aracne, Roma, 2008.
Elenco delle opere mostrate nel corso della lezione
Robert Smithson, Spiral Jetty, 1970 Great Salt Lake, Utah
Robert Morris, Labirinto, 1982 Collezione Gori
Dennis Oppenheim, Directed Seeding – Canceled Crop, 1969, Olanda
Dennis Oppenheim: Formula Compound, 1982, Collezione Gori
Michael Heizer, Double Negative, 1969-1970, Nevada
Richard Long, A Mile Long Walk & England, 1968-1969
Richard Long, Cerchio verde di Prato & Cerchio di erba, 1985, Collezione Gori
Christo & Jeanne-Claude,Running Fence, 1976, California
Magdalena Jetelova, Progetto "Islanda", 1992
Maya Lin, Wave Field, 2009, Storm King Art Center, Mountainville, NY
Maya Lin, Vietnam War Memorial, 1982, Washington D.C.
Beverly Pepper, Spazio teatro Celle – Omaggio a Pietro Porcinai, 1992, Collezione Gori
Nancy Holt, Sun Tunnels, 1973, Utah
James Turrell, Roden Crater Project, dal 1977 (in corso), Arizona
Bukichi Inoue, Il mio buco nel cielo, 1987-90, Collezione Gori
___________________________________________________________________________
6 novembre
Alessio Bertini
Arte contemporanea: una questione sociale
Claire Bishop
Inferni artificiali
2015 (2012), Luca Sossella Editore
Nicolas Bourriaud
Estetica relazionale
2010 (1998), Postmedia
Samuel Bianchini, Erik Verhagen (a cura di)
Practicable. From Partecipation to Interaction in Contemporary Art
2016, MIT Press
Nato Thompson (a cura di)
Living as Form. Socially Engaged Art 1991-2011
2012, MIT Press
__________________________________________________________________________
30 ottobre 2017
Carolina Ciuti, LA VIDEO ARTE
Bibliografia:
Balsom, Erika, A History of Film and Video Art in Circulation, Columbia University Press, 2017
Balsom, Erika, Exhibiting Cinema in Contemporary Art, Amsterdam University Press, 2013
Blom, Ina, The Autobiography of Video, The Life and Times of a Memory Technology, Sternberg Press, Berlino, 2016
Bodei, Remo, Le forme del bello, Il Mulino, 1995
Bonet, Eugeni, Escritos de vista y oido, MACBA, Barcelona, 2014
Bonet, Eugeni (ed.), Video Writings by Artists (1970 – 1990), LOOP Barcelona, Mousse Publishing, Barcelona-Milano, 2017
Borelli, Caterina e Daniela Noé, From TV to Video, Dal video alla TV, Bologna, Cineteca Comunale, 1984
Ciuti, Carolina (ed.) I Have a Friend Who Knows Someone Who Bought a Video, Once, LOOP Barcelona, Mousse Publishing, Barcelona-Milano, 2016
Kubler, George, La forma del tempo, Einaudi, 1989
Krauss, Rosalind, "Video: The Aesthetics of Narcissism," Ottobre 1 (Primavera 1976)
Marcuse, Herbert, L'uomo a una dimensione, Einaudi, 1999 (One-Dimensional Man: Studies in the Ideology of the Advanced Industrial Society (Boston: Beacon Press, 1964).
Uroskie, Andrew, Between the Black Box and the White Cube: Expanded Cinema and Postwar Art, Chicago, University of Chicago Press, 2014
Valentini, Valentina, Video d'autore, 1986 – 1995, Gangemi Editore, Roma, 1995
Vettese, Angela, Si fa con tutto, Editori Laterza, 2010
Sito Web Loop http://loop-barcelona.com/publications/
Lista dei video analizzati nel corso della lezione:
Nam June Paik, Mirage Stage, 1986
Bill Viola, The Raft, 2004
Pipilotti Rist, Worry Will Vanish Soon, 2014
Bruce Nauman, Walking in an Exaggerated Manner, 1967
Bruce Nauman, Stamping in the studio, 1968
Vito Acconci, Undertone, 1972
Joan Jonas, Leftside, Rightside, 1972
Joan Jonas, Vertical Roll, 1972
Peter Campus, Three Transitions, 1973
Nam June Paik, Participation TV and TV Bra for Living Sculpture
Ira Schneider and Frank Gillette, Wipe Cycle
Aldo Tambellini, Black Spiral
Nam June Paik, Global Groove, 1973
Stephen Beck, Video Weavings, 1976
Martha Rosler, Semiotics of the Kitchen, 1975
Dara Birnbaum, Technology / Transformation: Wonder Woman, 1978
David Hall, TV Interruptions, 1971
Muntadas, Cadaques Canal Local, 1971
Dara Birnbaum, Kiss the Girls, Make Them Cry (1979)
Muntadas, Political Advertisments, 1953 – 2012
Joan Braderman's, Joan Does Dinasty, 1986
Christian Marclay, The Clock
Douglas Gordon, 24 Hour Psycho
Andy Warhol, Sleep, 1962
Andy Warhol, Empire, 1963
Bill Viola, The Greetings, 1995
Bill Viola, Emergence, 2002
Fiona Tan, Provenance, 2008
Fiona Tan, Rise and Fall, 2009
Rachel Rose, Lake Valley, 2016
Mathias Poledna, Imitation of Life, 2013
Pierre Huyghe, One Million Kingdoms, 2002
Wafaa Bilal, Virtual Jihadi, 2008
Walid Raad, Hostage: The Bachar Tapes, 2001
Shoring Neshat, Rapture, 1999
Siti per reperire i video :
YouTube, Vimeo, DailyMotion, Ubu Web, Nowness
9 ottobre 2017
Alessandra Acocella
L'ARTE NELLO SPAZIO URBANO
BIBLIOGRAFIA:
L'arte pubblica nello spazio urbano. Committenti, artisti, fruitori, a cura di Carlo Birrozzi e Marina Pugliese, Mondadori, Milano 2007
Tusciaelecta. Arte contemporanea nel Chianti 1996/2010, a cura di Arabella Natalini, Quodlibet, Macerata 2010
Fuori! Arte e spazio urbano 1968-1976, a cura di Silvia Bignami e Alessandra Pioselli, Electa, Milano 2011
Paesaggio con figura. Arte, sfera pubblica e trasformazione sociale, a cura di Gabi Scardi, Umberto Allemandi & C., Torino 2011
Alessandra Pioselli, L'arte nello spazio urbano. L'esperienza italiana dal 1968 a oggi, Johan & Levi, Monza 2015
Alessandra Acocella, Avanguardia diffusa. Luoghi di sperimentazione artistica in Italia 1967-1970, Fondazione Passaré/Quodlibet, Milano/Macerata 2016
Emanuela De Cecco, Non volendo aggiungere altre cose al mondo. Politiche dell'arte nella sfera pubblica, Postmedia, Milano 2016
Arte a Firenze 1970-2015. Una città in prospettiva, a cura di Alessandra Acocella e Caterina Toschi, Quodlibet, Macerata 2016
Miwon Kwon, Un luogo dopo l'altro. One Place after Another. Arte site-specific e identità locazionale, Postmedia, Milano 2017
______________________________________________________________________________
25 settembre 2017
Bianca Lucia Maglione
La fotografia italiana del secondo dopoguerra
BIBLIOGRAFIA:
– Angela Madesani, Storia della fotografia, Bruno Mondadori, Milano 2005
-Italo Zannier, L'occhio della fotografia, Roma 1988
– Antonella Russo, Storia culturale della fotografia italiana. Dal Neorealismo al Postmoderno, Einaudi, Torino 2011
– Angela Madesani, Rubare l'immagine. Gli artisti e la fotografia negli anni '70, Tega, 1999
– Per la scansione della rivista Epoca: http://www.petitesondes.net/Epoca.htm   
– Sito di Ugo Mulas: http://www.ugomulas.org/
– Per molti libri fotografici di Luigi Ghirri e informazioni sull'autore:
 http://panizzi.comune.re.it/Sezione.jsp?idSezione=292
______________________________________________________________________________
5 giugno 2017
Michela Mattei
A UN PALMO DA TERRA. Per una semiotica del monumento contemporaneo
 BIBLIOGRAFIA:
SUL RICORDO:
Marc Augé, Rovine e Macerie. Il senso del tempo, Bollati Boringhieri, Torino, 2006.
Alida Assmann, Ricordare, il Mulino, Bologna, 2003.
Renato Barilli, Tra Presenza e assenza due modelli culturali in conflitto, Bompiani, Milano, 1974.
Remo Bodei, la vita delle cose, Laterza, 2009.
R.Koselleck, Futuro passato. Per una semiotica dei tempi storici, CLUEB, Bologna, 2007
Paul Ricoeur, Ricordare, dimenticare perdonare. L'enigma del passato, Il Mulino, Bologna, 2004.
SEMIOTICA VISIVA:
Omar Calabrese, Semiotica della Pittura, Il Saggiatore, Milano, 1980.
Omar Calbrese, Come si legge un'opera d'arte, Mondadori, Milano, 2006.
Lucia Corrain, a cura di, Semiotiche della pittura, Meltemi, Roma, 2004.
Paolo Fabbri, La svolta semiotica, Laterza, Bari, 1998.
Groupe μ, Trattato del segno visivo. Per una retorica dell'immagine, Mondadori, Milano, 2002
Jurij M. Lotman, il girotondo delle muse. Saggi sulla semiotica delle arti , Moretti &Vitali, 1998.
Piero Polidoro, Che cos'è la semiotica visiva, Carrocci editore, Roma, 2008.
Viktot Stoichita, L'invenzione del quadro, Il Saggiatore, Milano, 2004.
SITO DI RIFERIMENTO:
E/C RIVISTA DELL'ASSOCIAZIONE ITALIANA DI STUDI SEMIOTICI